A Closer Look:

Reese Lansangan of
Dressed Up Days
Tell us what you'd wear that would exactly spell "Reese"
DEFINITELY something crazy with lots of color, texture, and clashing patterns. And accessories made out of toy soldiers and dinosaurs and lots of doll heads. Yes, that would be insanely weird, but then again that would be me.
What are the things you love to do?
Reading good literature, rabid tweeting, shopping alone, going through my feeds, discovering new music, dressing up as a historical figure, consuming chocolate, listening to female singers, doing late night gigs, singing and playing guitar, composing songs with Vica, doing my nails, random photography, afternoon picnics, spontaneous lunches, getting all red splotchy after beach trips, buying naked toy babies, DIY-ing and making a mess, photo-manipulating myself with famous stars... yup, I have no life.
How did you get interested in fashion?
My interest definitely didn't come to me as a dramatic epiphany. I had more of a slow and steady growing love affair with fashion. However, I've always been fascinated by clothes as a kid, drawing my dream dresses on Grade 2 pad papers and writing stories which always centered around rich and fabulously fashionable characters.

I guess playing with Barbie triggered my desire for dressing up. I took pleasure in mixing and matching new Barbie clothes with ratty old ones from the 80's which I inherited from my older cousins. I'd also make tube tops and pencil skirts out of my old, fuzzy school socks, then I'd prop up my dolls on boxes and take pictures of them with my Pokemon camera - photo-shoot style. I enjoyed the factor of unpredictability in mixing and matching clothes, that I eventually started doing the same for my existing wardrobe.
What do you think of the fashion scene in Manila? Even more specific, in Ateneo?
One thing I've noticed is that most people take comfort and self-assurance in following trends. As a result, it's not very uncommon to see girls sashaying in padded blazers and high waist skirts. I'm not trying to imply that trends are bad, because they're not. One of the good things about trends is that they can represent a certain period of history in an aesthetic sense. These trends dictated by A-list celebrities or spreads from a magazine, I like them well enough, but they have the tendency to encourage people to become an exact carbon copy of what they see. It is definitely a good thing to be inspired, but I always appreciate individuality and personality reflected through a person's way of dressing, which could be a mishmash of different things, but in the end is still completely unique and true to the self.
Honestly, I think that very few individuals in Ateneo make an effort to be bold and experimental with the way they dress. Although I recognize that one can feel restricted in expressing one's self because of certain rules established by the institution, some fail to realize that there are ways to work around those rules.
I can say for myself that I also fall into the trap of throwing on denim cut-offs and a graphic shirt during days when I can't really be bothered, but I truly see dressing up as an adventure that you choose to embark on every day. You can open your closet and come out of it feeling like a whole different person. Clothes have that power to boost your self-esteem and make you feel so much better about yourself.
What do you love best about where you live (Manila)?
I think that Manila is one of the few places in the Philippines where culture is pretty concentrated, and where most wonderful and exciting things happen. From epic concerts, art exhibits, rave parties, underground clubs, and nightly gatherings of undiscovered prodigies - we definitely got it all going down here. What's not to love?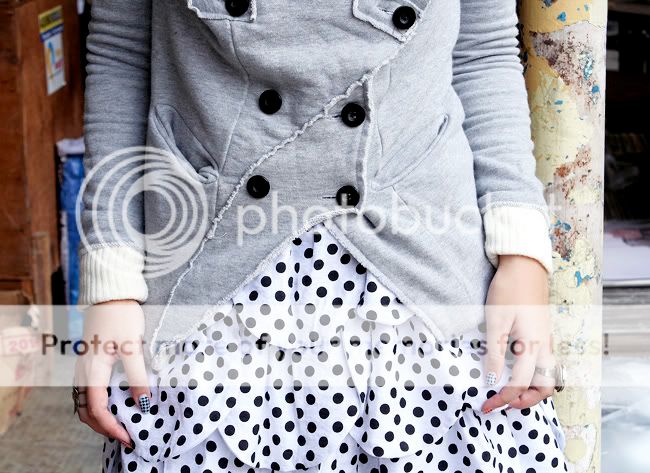 How would you describe your style?
My style is a weird cross between a dreamy Victorian Geek who sips tea with her stuffed animals, and an offbeat DIY Guru with fake pearls, feathers and plastic cars hanging down her neck. It's kooky and quirky and bizarre and all sorts of weird adjectives strung together.
At a drop of a hat, name five things (people/magazines/places/era/blog) that influence your style.
Japanese Street Style, plastic toys, Yang Seung Ho, girls with crazy (colored) hair, Victorian era and the 90's (okay, that was six haha, forgive me?)

Best fashion scene/city you've visited? What did you wear?
Definitely Tokyo. Although I've been fortunate enough to have visited all the other fashion capitals (save for Milan), Tokyo is of another extreme, ALIEN level of fashion. Personally, I agree that fashion in certain European countries are posh and elegant, yet tend to be unintentionally snobbish at the same time. In Tokyo, you see both that, and the complete opposite, and it is a wonderfully comforting thing how people can put on anything and everything on themselves, either for self expression or just for the heck of it - and nobody would give a say. So while I was in Tokyo I wore everything, from layered circle skirts, psychedelic coats, faux fur on pleather, earrings made of Ray Bans, and my sequined Cheshire Cat coin purse - things I'd never be able to wear in peace here in Manila.
What's the most played song on your iPod? Book you've read most number of times? Movie you can't stop watching?
Book: Definitely A Series of Unfortunate Events. It's tradition to attempt rereading the whole series every summer. Very few times I've been successful with this feat of course, but i do make an effort to finish off a few books. It's an amazing incredible series - definitely so deep and dark and profound to be a children's book!
Song: I plugged my iPod in to check and it's Move You by Anya Marina :) A close second is Jack Johnson's Sitting Waiting Wishing. I think I played this too many times a day during the summer of 2006
Movie: Clueless, The Parent Trap, Matilda and, embarrassingly, The Clique. I watch it ALL THE TIME because yes, I do like mind-numbing straight to DVD movies that were made for 13 year olds.
What runs through your mind when you're getting dressed?
Mostly just thoughts of my Mom leaving me behind if I spend too much time getting ready. It's very difficult for me to wake up in the morning, so I seem to never have enough time to dress up as I'd like. But my process of getting dressed would usually involve taking a specific thing (top, shoes, jewelry, etc) that I'd like to wear, then I'd build my entire outfit around that item. I never have an exact concept of what I'd like to wear beforehand. I also try to not over-think about outfits, because the most spontaneous ones are usually the most kickass ones.
Most worn item in your closet / least worn?
Most worn: Denim cut-offs and basic tank tops. As for specific, distinct items... I really can't think of anything! I try to exhaust my all clothing options before repeating them... okay probably my oversized purple shirt, haha!
Least worn: All my coats and blazers that are too inappropriate to wear in this Manila weather :) (I have A LOT, it's such a shame!) And also, there's this certain houndstooth romper that I've never worn out yet since buying it 2 years ago.
If you could invite anyone (dead or living) to a dinner party, who would it be, where would it be, what would you eat, and what would you wear?
Because I am lame, I'm not inviting The Beatles or, uhh, Princess Diana or anyone great and historical. I think I'm going to invite one of my biggest Kpop biases, Nichkhun of 2PM. In a perfect world, I am married to him, so a dinner with him would be the perfect opportunity to try and make it happen.
It should be somewhere fun, like I don't know, an amusement park or a circus? Then he'd treat me to watermelon slushies and cotton candy and caramel popcorn in special tumblers. I'd just throw on a huge neon shirt filled with strawberries or something crazy like that, a huge neck bling of some sort, shorts, and my Jeremy Scott sneaks. Nothing too glamorous or fancy :)
What are your favorite shopping spots? When shopping, do you usually splurge or skimp? What do you skimp/splurge on?
My personal shopping mecca is definitely Japan and Thailand. They are both wonderful and all sorts of unbelievable. The city scene in both places is just absolutely unique and vibrant. Not all finds are cheap, but most of them are really amazing and one-of-a-kind and worth spending on.
I usually skimp on basics like plain tops, undershirts and bottoms, but I tend to splurge a lot on shoes and jackets / blazers. Also accessories. Money is almost not an object for me when it comes to amazing accessories - well, as long as I can still afford them of course!

Where do you see yourself in 2011?
I see myself as a more headstrong, independent and mature woman, finally landing my first real (high paying??? haha) job, doing what I've always really wanted to do. Hopefully by then, I'd never stop trying to be a better person, while still being completely happy with my life and how I'm living it - by learning from mistakes and trying new things and seeing and experiencing every bit of this wonderful world.
Photography: Mj Benitez

Interview + Assistant: Jill Adona

Art Direction + Assistant: Trisha Bautista
Location: Cubao X
P.S. Know anyone who should be featured on Street Manila? E-mail me at mjbenitez04@gmail.com